We,
Hindustan Tools & Components
, are proficient manufacturer and supplier of
Battery Parts, CRCA Sheet Press, Dies Components, Extension Box Parts, Fixtures Components, Jigs Components, Mould Components, Panel Board Parts
, etc. We manufacture these products in compliance with international quality standards, utilizing the finest grade raw material. The array is marketed in various sizes, configurations, specifications and capacities. It long time and unstoppable performance is offered to patrons at their pocket friendly rates. Besides, using varying sizes carton and corrugated boxes, our products are properly packed and prepared for safe dispatching.
Annual Turnover: Rs 2.8 Crores
Bankers: Canara Bank
Business Type: Manufacturer And Supplier
Central Sales Tax No: 29400062454
Income Tax Registration No: AACFH9617C
No. of Designers: 1
No. of Employees: 18
No. of Engineers: 2
Original Equipment Manufacturer: Yes
Standard Certifications: ISO 9001:2008 REG NO R91/1499
Warehousing Facility: Yes
Year of Establishment: 1991
Product Range:
Air Circuit Breaker Parts
Battery Parts
CRCA Sheet Press
Dies Components
Extension Box Parts
Fixtures Components
Jigs Components
Mould Components
Panel Board Parts
Press Tool Components
Sheet Components Tools
Sheet Metal Components
Starter Parts
Switch Parts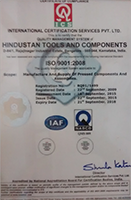 HINDUSTAN TOOLS & COMPONENTS All Rights Reserved.